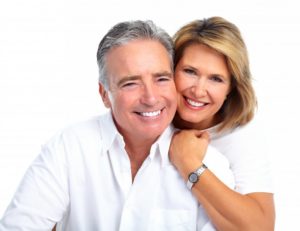 There was a time when you would treat yourself to a Mavs basketball game, and then hit the town afterwards to have dinner and take in the sites of downtown Dallas. But things have recently changed. You've lost some of your teeth due to poor oral hygiene habits of the past and just don't feel like yourself. That means that the things you used to love to do are a far-gone memory now. You're wondering if there is a way to replace several missing teeth and restore the life that you once had. Thankfully, your dentist in Richardson has a solution.
Dental Implants – A Solution for Missing Teeth
One of the best options available to restore your missing teeth is a dental implant. It is a titanium post that is surgically inserted into your jawbone and allowed to fuse with your cells. This is possible because titanium has been found to be biocompatible, which means that your body recognizes it as common and won't attack or reject it as being a foreign intruder, thus you are able to heal.
The greatest benefit of this procedure is that it replaces the missing root structure, which is of paramount importance in providing stability and durability.
After the implant heals, a crown, bridge or implant-supported dentures are attached on top. These are far different than the traditional methods (without implants), because the new structure provides a level of stability that is unmatched.
What Happens if You Need More Than One Dental Implant?
It is quite common to need more than one dental implant. In those situations, your dentist will consider your medical history, the integrity and functional movement of your jawbone.
If you have enough healthy bone to allow for more than one implant to be seated, he will move forward with using the most effective number of posts to restore your smile. It's worth noting that you won't always need an implant for each missing tooth. In situations where you have consecutive or a row of teeth missing, your dentist can use strategically placed implants and then seat a bridge on top to completely restore your smile.
A New Day is Dawning
You should feel excited in knowing that a new day is dawning for you. All of the suffering that you've endured can finally be rectified, and you can enjoy the fruits of reconstructive dentistry, where aesthetics and function meet in a happy merger.
So watch out Dallas! There's a new and improved person coming back on the scene, smiling brightly and full of confidence.
About the Author
Dr. Afshin Azmoodeh graduated from the Texas A&M College of Dentistry and has since gone on to practice comprehensive dentistry in the Richardson area. With nearly 20 years of service, Dr. Azmoodeh specializes in implant dentistry (both placement and restoration). He practices at Canyon Creek Family Dentistry and can be reached for more information through his website.