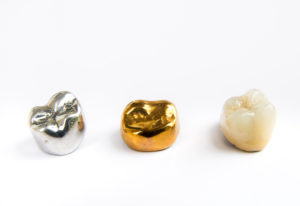 Have you ever noticed that dental and medical professionals speak what seems like a foreign language? As if it weren't intimidating enough simply being in the dental chair having your teeth examined, but then you have the added stress of wondering what exactly is being said about you!
Hearing about your "probe readings" or that one of your teeth has a "mesial fracture line" would make anyone would feel a little nervous. In this blog, your dentist in Richardson will explain one particular term you may have heard recently: a dental crown. You'll learn what a crown is and why you might need one so that next time, you'll be a better-informed patient!
Why Would You Need a Crown?
First, we'll explain a bit of dental terminology. A tooth is actually comprised of two parts: the root and the crown. The crown of a tooth is the white part that you see above the gumline. Anything below the gumline is considered the root.
If a tooth has had a large cavity or a large fracture, it's much weaker than a tooth that hasn't. Teeth have to withstand incredible chewing forces on a daily basis for many decades. They need to be strong!
In the case of a cavity, if it's small enough it can generally be fixed with a small filling and the tooth will remain strong enough to function. But if the decay is large, a simple filling won't work because there isn't enough of the existing tooth remaining to support it.
This is where a crown comes in. This procedure will "cap" the tooth with a solid covering, typically made of metal or porcelain, which will restore the crown of the tooth to its original strength.
What is the Procedure Like?
Dental crowns in Richardson involve two visits. At the first appointment, your dentist will get the area numb, just as they would before doing a filling.
Next, they'll "prep" your tooth by removing the damaged tooth structure. This will make your tooth quite small to allow room for the crown to sit on top of it.
Molds will be taken and sent to the dental lab so that a custom-made crown can be made that matches the existing shape and color of your other teeth. This way, your crown restoration will look and feel completely natural.
Before you leave, you'll be given a temporary crown so that you'll be able to look and function normally while waiting for the permanent crown to be made.
You'll return for your second visit 1-2 weeks later, where the crown will be permanently cemented into place. Your tooth will then be restored in strength and appearance.
About the Author
Each of the dentists at Canyon Creek Family Dentistry is dedicated to providing their patients with absolute best in dental care. They combine the latest dental techniques with a compassionate chairside manner, and always take the time to explain the dental treatments they recommend. They can be reached for questions via their website or at (972) 644-3800.