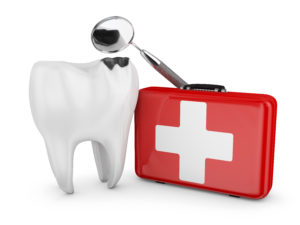 It's Friday night and you're so glad that the weekend has finally arrived. After a long week at work, you've planned the perfect mix of relaxation and fun – binge watching some favorite TV and having dinner with friends on Saturday. But just as the weekend is getting started you bite down on something at dinner and realize one of your crowns has come off. Yikes! Thankfully, you're not in pain (and even avoided swallowing it) but you'd still like to get it taken care of as soon as possible. Since it's late on Friday night you're just crossing your fingers that you won't have to wait until Monday!
If anything like this has ever happened to you, your dentist in Richardson talks about how you can handle this situation. You'll also learn about some prevention tips for the future.
Dental Care in an Emergency
Whether it's a toothache, injury, or a broken crown – the first step is always going to be calling your dentist. We offer same-day appointments so that you don't have to delay in getting the treatment you need. After all, time is of the essence when it comes to emergency care.
Some offices will even have weekend or late hours to accommodate emergency situations. In fact, that's just what we do at Canyon Creek Family Dentistry because we understand that life doesn't always go according to plan!
With office hours almost every day of the week, you can rest assured that your emergency dentist in Richardson will be available to take care of you if anything unforeseen happens to your oral health.
Even if it's outside regular hours, don't hesitate to call. You can either leave a message or call the emergency number provided so that you can schedule to come in as soon as possible.
How Can You Avoid Dental Emergencies?
Unfortunately, no matter what you do there are always some circumstances that can't be avoided entirely! But thankfully there are also preventative measures you can take to keep your mouth as healthy as possible and potentially avoid emergency situations:
Have regular checkups – These visits allow your dentist to find problems when they're small. For example, they can detect a cavity when it's relatively minor and hasn't turned into a toothache yet.
Wear a mouth guard – If you play any type of contact sport, a mouth guard can really help to prevent injuries. Similarly, wearing a night guard can protect your teeth from fractures or cracks if you clench or grind at night.
Watch your diet – Avoid chewing on things like ice, hard candy, and popcorn kernels, as these habits can break your tooth or existing dental work.
Remember, even if you run into a problem at an inconvenient time, we have weekend hours and emergency care so that you can get back to enjoying your weekend sooner than you thought!
About the Author
All of the dentists at Canyon Creek Family Dentistry are dedicated to providing outstanding dental care for their community. Combining the skill and expertise of several dentists on the same team means that you never have to worry about someone being available to serve all of your oral healthcare needs. They can be reached for questions via their website or at (972) 644-3800.