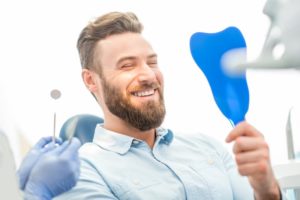 Does the look of your smile matter? If you're looking to make a positive first impression on someone you meet, take note that a recent study shows that people are more likely to notice the condition of your teeth before anything else. That means that a flaw in your smile could hinder your career or chances to make a love connection. Thankfully, there's an easy way to correct minor imperfections with porcelain veneers in Richardson, and as you read on, you'll learn about some of the advantages of the cosmetic treatment.
Porcelain Veneers Explained
Porcelain veneers are wafer-thin shells made from high-grade ceramics. They fit conveniently over your front teeth and mask imperfections to leave you with a brand-new looking smile. The procedure typically takes two visits to complete and involves the following steps:
Preparation – The procedure starts with your cosmetic dentist in Richardson removing a thin layer of enamel to make room for the veneers to fit properly and maintain the natural appearance of your teeth.
Bite Impressions – Next, bite impressions are taken along with measurements that will be sent to an in-network laboratory that will custom-create your porcelain veneers.
Temporary Fitting – While waiting for your final set to arrive, you'll be fitted with temporary veneers.
Permanent Placement – When they're ready, you'll return to your dentist to have your permanent veneers placed. You'll leave the office looking and feeling like royalty.
The Advantages of Porcelain Veneers
There are several advantages of porcelain veneers. For starters, it's a great alternative for people who've tried teeth whitening and haven't been able to get the desired results.
Veneers also offer faster results for those who don't have the time to dedicate to lengthier treatment processes like braces or Invisalign to correct minor issues like crowding, gaps or misalignment. Whereas these methods could take several months to complete, patients are able to experience a smile makeover in only two visits that span a couple of weeks with porcelain veneers.
Does Confidence Matter?
So we conclude with this question: "Does confidence matter?" Scientists have even discovered the physical benefits of mentally feeling better about yourself, as it contributes to the production of the "happy" hormones like endorphins, oxytocin and serotonin.
When these hormones are in greater abundance in your body, the environment is better suited for good health and your immune system functions better also.
Your journey to experiencing all of these benefits starts with reaching out to your dentist in Richardson to schedule a visit. While there, you can ask questions and learn more about the porcelain veneers process.
About the Author
Dr. Afshin Azmoodeh earned his dental degree from Texas A&M College of Dentistry, and for two decades he's been serving the Richardson community. One of the secrets to his success is that he never stops learning, which is why he takes continuing education courses. Dr. Azmoodeh helps patients experience the smile of their dreams with porcelain veneers at Canyon Creek Family Dentistry, and he can be reached for more information through his website.