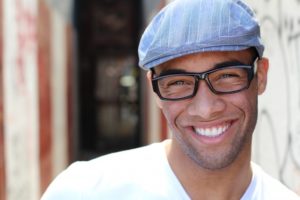 When it comes to improving your smile, porcelain veneers in Richardson provide a way to enhance the color, shape, size and overall appearance of your teeth. For patients who've received dental implants, though, is the porcelain veneers process still a viable option? As you continue reading, you'll learn about the dental implant process and find out whether it's compatible with porcelain veneers so you can move forward with achieving the smile you've been dreaming of!
How the Dental Implant Process Works
A cylinder-shaped post, a dental implant is inserted into the jawbone and acts as the perfect replacement for a missing tooth root. Over time, it's secured through a process called osseointegration, which is when the existing bone fuses with the implant. After a period of healing, another titanium component is added, called the abutment, and its function is to allow a prosthetic crown, bridge or denture to be attached. Thus, you're left with a functional and appealing restoration.
Can Porcelain Veneers be Added to Replacement Crowns?
If you've received a porcelain dental crown in the past, then you're fortunate to have a restoration that is more resistant to stains and blemishes than natural teeth. However, with an average lifespan of 10-15 years, a dental crown can eventually start to show signs of wear-and-tear. Typically, though, the placement of porcelain veneers is not an option because it requires a thin layer of enamel to be removed, which is not possible with a porcelain dental crown.
An Exception to the Rule?
There still may be a possibility of you receiving porcelain veneers along with dental implants in Richardson, as there is a particular type of veneer that is made to work in conjunction with existing dental work. To find out if you're eligible and whether your dentist performs this type of procedure, you'll first need to visit for a smile assessment and consultation.
This will allow him or her to examine your teeth and let you know whether the placement of veneers is an option. If you're not eligible for the process, then, along with your dentist in Richardson, you can develop a counter-strategy so you can address any of your smile flaws in the most effective way possible.
About the Author
After over 20 years of providing the best in dental care, Dr. Afshin Azmoodeh still remains just as driven to help patients experience the best in oral health and smile aesthetics as he was when he graduated from the Texas A&M College of Dentistry. He helps patients achieve the smiles they've always wanted at Canyon Creek Family Dentistry, and he can be reached for more information through his website.