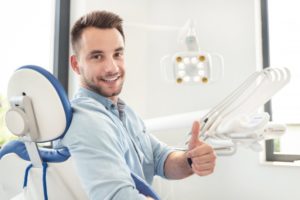 The idea that going to the dentist more often could save you money seems contradictory at first, but it's true, especially if you have dental insurance. The vast majority of dental insurance plans prioritize preventive and diagnostic care. They often cover the cost of checkups and cleanings at 100% while only paying for a portion of the cost of restorative treatments like fillings or crowns. If you, like most people, want to save money and minimize the amount of time you spend in the treatment chair, keep reading to learn four ways that regularly seeing your dentist in Richardson can save you money in the long run.
1. Get Screened for Oral Cancer
When your dentist examines your mouth at your checkup, they're looking for more than just cavities. They're also checking for any suspicious lumps or patches that could indicate oral cancer. As with all types of cancer, early detection is key. Not only will treatment be less invasive and expensive, but it could even save your life!
2. Detect Cavities Early
It's a common misconception that you can always feel when you have a cavity. Tooth decay often doesn't cause pain until serious damage has been done. At that point, you'll typically require a dental crown or root canal, both of which are pricier than a simple filling. Fortunately, your dentist can spot cavities early on during your checkup.
3. Prevent Gum Disease
The leading cause of tooth loss in the United States is gum disease, a bacterial infection of the gums and surrounding bone that support the teeth. As these structures weaken, the teeth eventually loosen and fall out. Countless studies have suggested that gum disease increases your risk of various medical conditions, including:
Cardiovascular disease
Type 2 diabetes
Osteoporosis
Pregnancy complications
Alzheimer's disease
Luckily, gum disease can largely be prevented with daily brushing and flossing as well as routine teeth cleanings.
4. Get Your Teeth Professionally Cleaned
Good at-home oral hygiene is absolutely essential to having a healthy smile. However, no matter how diligently you brush and floss, you will inevitably miss some spots. Plaque can accumulate in these areas and harden into tartar, which can only be removed by a dentist or hygienist. Getting professional cleanings on a regular basis will remove these tartar deposits before they can contribute to tooth decay and gum disease.
When it comes to oral health, an ounce of prevention is truly worth a pound of cure. That's why dental insurance usually covers two checkups and cleanings a year. Save yourself time and money by taking advantage of your benefits!
About the Author
Dr. Afshin Azmoodeh has been a dentist in Richardson, TX for nearly 20 years. He offers a variety of services, but focuses on a preventive approach to dental care. His practice is in-network with many, many insurance companies, including Delta Dental, Aetna, Cigna, and Medicaid. His team also offers affordable financing through CareCredit. To learn more about how to save money on dental care, contact Canyon Creek Family Dentistry at (972) 644-3800.