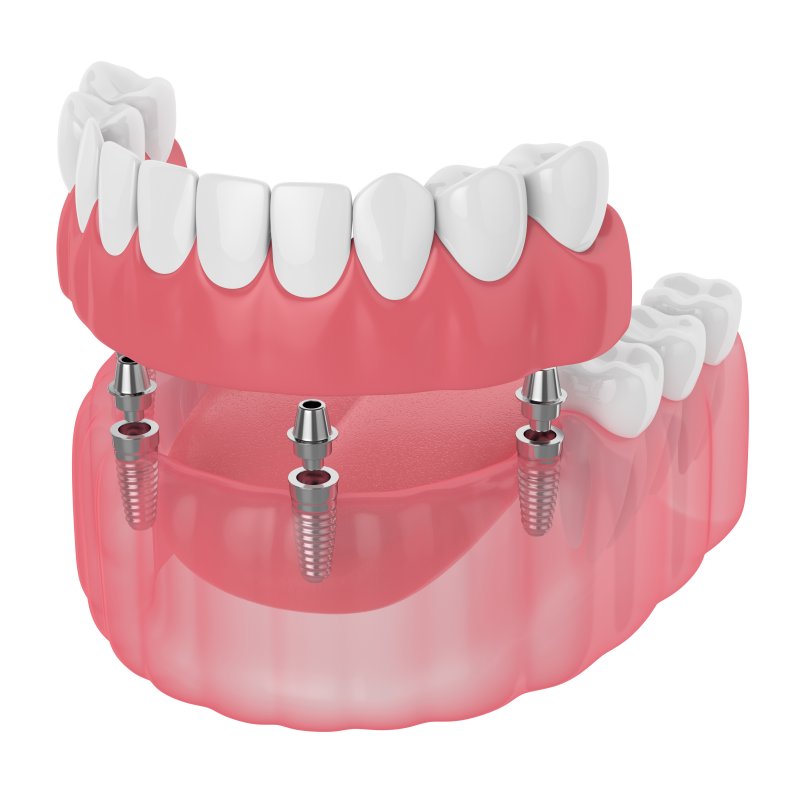 Back in the day, if you were missing teeth, you were out of luck. However, with modern dental technology, having a toothless smile can be a thing of the past. There are a variety of different tooth replacement options out there that have proved to be successful. One of the most popular options is dentures, but dental implant-retained dentures are becoming more popular due to their many benefits. You may be wondering if making the switch is really better. Continue reading to learn more about attaching dentures to dental implants in Richardson and how it can benefit you.
What Are Implant-Retained Dentures?
Traditional dentures rest directly on the gums while implant-retained dentures are made stable by dental implants. Implants are inserted directly into the jawbone by your dentist in Richardson. With implant-retained dentures, they snap or clip onto the implants where they remain securely in place. They can still be removed so you can thoroughly clean your mouth. The number of implants you require to hold in your denture(s) depends on numerous factors, but it can be anywhere from 4 to 8 or even 10.
4 Benefits of Implant-Retained Dentures
Traditional dentures certainly have their benefits and can be lifechanging for people who are missing teeth. However, implant-retained dentures can provide many more. Here are just some of the advantages:
Preserves Jawbone: When you are missing your natural teeth, your jawbone will slowly begin to be reabsorbed by your body because it isn't being stimulated by regular chewing. Dentures do help to fill out the structure of the face, but they cannot preserve the integrity of your jawbone. However, implants replace the natural root of the tooth, therefore allowing the bone to be stimulated regularly. Ultimately, it will keep it strong and healthy!
Stability: Over time, dentures can become ill-fitting. When this happens, they can become unstable and difficult to work with. Some people even find themselves embarrassed when their false teeth are slipping and sliding around the mouth. Implant-retained dentures are anchored into place, so your smile will remain stable.
Long-Lasting: The implants used to support your dentures fuse to the jawbone in a process known as osseointegration. This means that you won't need to constantly have them repaired and replaced like other tooth replacement options.
More Affordable: Implant-retained dentures are more cost-effective than a mouthful of implants, but you won't need to be spending more later on to have them relined or replaced like traditional dentures. In addition to being good for your smile, implant-retained dentures are better for your wallet.
Implant-retained dentures have many advantages over traditional dentures, and they can make a huge difference for your quality of life. By opting for this tooth replacement option, you can experience all of the benefits of dentures and even more!
About the Author
Dr. Afshin Azmoodeh is an experienced dentist who has been working in the field for nearly 20 years. He earned his dental degree from the Texas A&M College of Dentistry and is constantly seeking to expand his skillset through continuing education. He has received specialized training in implant dentistry and is an active member of the American Dental Association. To learn more about implant-retained dentures or to schedule a consultation, visit his website or call (972) 644-3800.