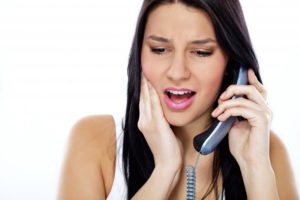 As best you can, you'd like to avoid a dental emergency. However, the reality is that most people will experience at least one episode in their life. Thus, if you're dealing with severe tooth pain or another pressing mishap, you need to know how to find an emergency dentist fast. Here are some tips to help you in these tough situations.
What to Look for in an Emergency Dentist
These days, there are no shortage of dentists, which is a good thing. However, when you're in pain, you need to be able to find the right dentist to provide rapid and effective care. If your dental emergency occurs during regular business hours, it's much easier to get in for an appointment, but what are you to do if an emergency happens at a time when most practices are closed?
When you visit a prospective dentist's website, look to see if there are any alternative hours offered for emergency care. Also search for special instructions for what to do if a dental emergency in Richardson occurs when the practice is closed.
Here are some details to be on the lookout for:
Does the practice offer same-day visits?
Is there an after-hours phone number that you can call?
Is an email address provided so that you can have another means of reaching out?
Does the practice divulge what their typical response time is?
By having these details, you can better determine whether this will be the right practice to work with, and it will also give you an idea of when you'll be able to get some relief.
What to Do Until You're Treated
No matter what type of dental emergency you're facing, it's critical that you resist the urge to panic. The only thing it accomplishes is to further add to your stress and cloud your judgment.
Take your time to assess what has happened and to determine what you can do immediately to stabilize the situation. For example, if a tooth has been knocked out, the first priority is to carefully retrieve it, clean it and attempt to reinsert it.
In these difficult situations, it also helps to have an over-the-counter pain reliever available like ibuprofen (Advil, Aleve or Motrin), and an ice pack to reduce any swelling.
By taking the right steps the moment you recognize a dental emergency, which includes reaching out to an emergency dentist in Richardson, you can soon recover and put an end to your pain.
About the Author
Dr. Afshin Azmoodeh is a graduate of Texas A&M College of Dentistry. Throughout a career that has spanned over 20 years, he has treated his fair share of dental emergencies, helping patients restore their oral health to normal and put an end to their discomfort. To ensure that he can continue providing the absolute best in care, Dr. Azmoodeh takes several hours of advanced postgraduate training annually. He provides same-day emergency dental care at Canyon Creek Family Dentistry, and he can be reached for more information through his website.