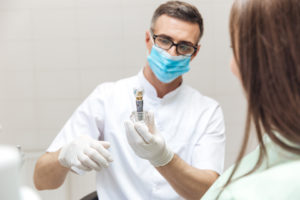 When it comes to planning for advanced tooth replacement using dental implant supported restorations, the cost is one of the main factors that worry patients. One big reason patients are concerned is that most dental insurance plans don't cover the cost of the implant posts or their surgical placement. Luckily, insurance does cover part of the cost of other aspects of implant tooth replacement – including your new tooth or teeth. In this post, we'll discuss some ways your dentist can help you to offset the cost of implant supported tooth replacement and why these restorations are worth the investment.

Maximizing Dental Benefits to Make Implant Tooth Replacement Affordable
While dental insurance doesn't usually cover the price of your dental implant posts or their placement, your benefits can be applied to other aspects of your treatment plan, including the following:
Implant supported replacement crowns, bridges, and dentures usually receive the same percentage of coverage as traditional restorations
When elected, you may receive coverage for dental sedation methods to keep you comfortable during implant placement and other aspects of your treatment plan
Preparatory treatments like tooth extractions and bone or soft tissue grafts are typically covered by insurers
Benefits of Dental Implant Supported Tooth Replacement
The cost of dental implant restorations may be higher than traditional tooth replacement plans, but the benefits may make the investment worthwhile. Some of the many advantages to receiving an implant supported replacement tooth include:
Improved oral health – the implant posts mimic tooth roots providing stimulation to keep gums and jawbone tissue healthy
Increased stability – especially for patients with dentures, the improved support can lead to the ability to eat a wider range of foods and feel more confident while speaking and smiling
Longer lasting – traditional restorations need to be replaced every five to ten years, but implant supported crowns, bridges, and dentures can last for two decades or longer with proper care
Meet the Canyon Creek Family Dentistry Team
At Canyon Creek Family Dentistry of Richardson, we offer patients a wide range of tooth replacement options, including implant retained restorations. If you need to replace a single tooth or multiple teeth, call Canyon Creek Family Dentistry to schedule a tooth replacement consultation in our state-of-the-art Richardson dental office. We will examine your smile, discuss all of your treatment options, and help you to find the best restoration solution to meet your needs. Our team believes there's truly no such thing as "one size fits all" dentistry, and we're here to help you create a personalized restoration plan to put a smile on your face.