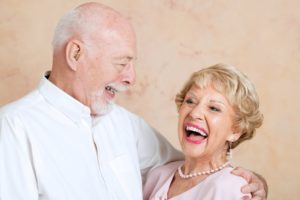 Life without your teeth can be tough. Your tooth loss amounts to the inability to eat all the foods you love, a less confident smile and poor support for your jawbone. The best method to restore you to normal is dental implants in Richardson, but are you a good candidate for this procedure? As you read on, your dentist explains what implants are and what's required for a successful process.
What are Dental Implants?
Dental implants are surgically inserted titanium posts that attach to your underlying jawbone. In doing so, they act as replacements for your missing roots and provide the stability that your oral cavity needs to remain healthy and fully functional.
Depending on how many teeth you have missing, the posts are strategically placed to provide the most support while limiting how much your sensitive gums have to be probed. Once the implants have healed enough, the abutments are added, which connect the permanent fixture (crown, bridge or implant-supported dentures) to the implant.
Who's Right for Implants?
Any person who's lost teeth due to decay or disease has the potential to be fully restored with dental implants. If disease is the cause of the tooth loss, though, it will need to be treated first. Furthermore, time is of the essence when it comes to receiving dental implants. That's because the success of the process depends on the patient having enough healthy bone mass for the posts to seat properly.
When there is prolonged tooth loss, the jawbone begins to deteriorate over time. This is because new bone cell production depends on the healthy tension created from a full set of teeth gently pressing against each other. When that natural tension is lost, a signal is sent to the jawbone to stop producing new material.
Thus, the faster a patient seeks treatment for tooth loss, the better the chances are of having a successful treatment.
Other Benefits of Dental Implants
Along with restoring the continuity of your face, dental implants offer the following benefits:
Improved Confidence – By attaching to your underlying bone, the titanium posts recreate the natural look of your teeth. Thus, you'll no longer feel the need to shy away from photos and be ashamed to smile.
Ability to Eat More Foods – The sturdy foundation provided by dental implants also makes it easier to eat the foods you previously had to give up. You'll be able to chew and digest your food better to get all the nutrients you need.
With the advances in modern dentistry, you no longer have limited options for restoration. You can now regain the life you once had with dental implants from your dentist in Richardson. To learn more, reach out to schedule a consultation today.
About the Author
Dr. Afshin Azmoodeh earned his dental degree from the Texas A&M College of Dentistry. Since then, he's gone on to provide the Richardson community with over 20 years of expert and compassionate care. Throughout his career, Dr. Azmoodeh has sought to expand his knowledge, which is why he's taken continuing education courses in advanced techniques like dental implanting and several other modalities. He helps patients regain the lives they once had at Canyon Creek Family Dentistry and can be reached for more information through his website.