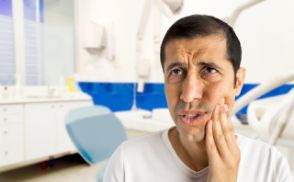 Toothaches can present with a variety of symptoms, including dull, sharp, or throbbing pain, swollen gum tissue, and even fevers or headaches. And, unfortunately, toothaches often occur at the most inconvenient times! The good news is that an emergency dentist in Richardson is just a phone call away and will not only get you out of pain but help you maintain your oral health as well. In this blog, you'll learn more about the most common reasons for a toothache and what your treatment options are!
What Causes a Toothache?
The fundamental reason for a toothache is a damaged or infected nerve in the center of a tooth. Here are some of the most common reasons that can happen:
Cavities – When a cavity is large enough, it can destroy the outer layers of a tooth and eventually reach the nerve, where it can cause severe pain.
Trauma or fractures – Similarly, blunt force or large fractures can traumatize a tooth and irritate the nerve.
Abscess – An infection or abscess is usually the result of a large, untreated cavity. This can be dangerous or even life-threatening if it's not addressed as soon as possible.
Although pain from a toothache is unpleasant, it's an important indicator that you need emergency care from a dentist in Richardson!
How Is a Toothache Treated?
After discussing your symptoms and doing a visual exam, a dentist will most likely take an X-ray. This allows them to see what's happening inside of a tooth and determine whether there's an infection.
After giving you a diagnosis, they'll discuss your treatment options, which may include:
A dental filling or crown – These options are often adequate for a mild toothache that hasn't affected the nerve of the tooth.
A root canal – If there is an infection present, a root canal will treat it while saving the remaining tooth structure.
Extraction – In some cases, a tooth can't be saved, possibly due to a severe cavity or fracture. Extractions may also be necessary when advanced gum disease has destroyed the supporting structures around a tooth. When this happens, the tooth can become loose because it doesn't have the support it needs to keep it in place.
It's a safe bet to say that no one wants a toothache. But with high-quality emergency care, you'll not only get out of pain but also protect your smile for many years to come!
About the Author
Dr. Adrian De Vincenzo is a general and emergency dentist in Richardson and a graduate of the Boston University Henry M. Goldman School of Dental Medicine. He's treated every type of dental emergency and always recommends treatment that protects his patients' short-term and long-term oral health at the same time. If you have any questions about a toothache, he can be reached via his website.