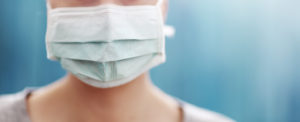 Prior to the COVID-19 pandemic, dentists and their staff followed a protocol based on recommendations from the CDC to prepare for appointments. This included thorough handwashing, cleaning and disinfecting treatment rooms, putting on personal protective equipment (PPE) like a mask and gloves, and setting out sterilized instruments. While all those protocols are certainly still in place, now there are many additional ways a dentist in Richardson prepares for each visit to protect against the spread of infection even more. Keep reading to learn what's being done to make sure you get the dental care you need as safely as possible!
Designated Safety Champions
Safety is a team effort and works best when each individual in the dental setting remains committed. That's why it's helpful to have a member of staff act as a Safety Champion each day to make sure that all safety protocols (big and small) are being adhered to. This way, an ongoing culture of safety is created to keep everyone accountable.
Pre-Procedural Rinses
Brushing and flossing prior to dental visits is always encouraged. Now, your dentist may also have you swish with an antiseptic rinse such as Oracare for 60 seconds to reduce the number of viruses and bacteria in your mouth and throat before your procedure.
Daily Health Checks For Staff
To make sure they're safe to provide care each day, each staff member will answer questions about how they're feeling physically and get a no-contact temperature check.
Pre-Screening For Patients
Patients will also have their temperature checked and be asked if they've recently had a cough, fever, tightness in their chest, a loss of taste or smell, and other symptoms in recent days.
More Personal Protective Equipment (PPE)
PPE such as masks, gloves, and gowns has always been a critical part of infection control in healthcare settings. Now, your dental team may be wearing even more, including double-masking with ASTM Level 3 masks and a possibly a face shield as well. Patients will also be asked to wear a mask or cloth face covering when they're not in the dental chair.
Dentists have always taken infection control very seriously to ensure the safety of their patients and staff. Now, these additional protocols are just another way they're keeping you and your family safe to prevent the spread of COVID-19.
About the Author
Dr. Afshin Azmoodeh has been a family dentist in Richardson for nearly 20 years. He and his staff take every precaution before, during, and after each appointment to maintain a safe environment for their patients and lower the risk of exposure to COVID-19 as much as possible. If you'd like to know more about how he and his staff prepare for appointments or have any questions, you can reach him via his website.