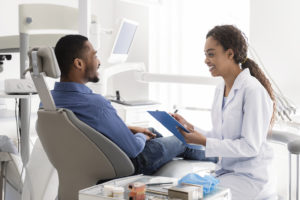 We have all been spending more time at home to prevent the spread of the coronavirus. Unfortunately, if you have a dental emergency, you're going to have to step outside to find care. The first place most people think of going to is a hospital emergency room, but that's where many infected people are going as well. Thankfully, there is a safer alternative. Read on to find out why visiting an emergency dentist in Richardson for urgent dental issues might be a better idea.
1. Low Traffic Environment
An emergency room can be a busy place. On any given day, there could be dozens of sick patients and family members entering the waiting room. As more people pass through, the odds of coming in contact with the coronavirus while you wait increase. Furthermore, because resources are limited, hospitals are directing their focus to the most critical patients. A dental emergency may be significant to you, but it may be a low priority in a hospital.
Currently, dentists in Richardson are only treating emergency patients, so you're not going to find many people in the waiting room. Your dentist will be able to get your treatment started quickly while minimizing your exposure to other people.
2. Specialized Care
Dentists spend years studying the structures of the mouth. While your average emergency room doctor is going to have some of this knowledge, they likely won't have the time to really use it. They are going to focus on getting you out of pain, potentially leaving the root cause untreated.
When you go to a dentist, you're going to be treated by someone who has the time and expertise to complete a thorough examination of your mouth using advanced dental technology. They'll be able to identify the issue precisely and give you care that is specific to your needs.
3. A Less Costly Treatment
You want to have your issue treated in one visit, and more importantly, you only want to pay for one visit. If you decide to go to an emergency room first, you'll likely end up being referred to a dentist for more appropriate care. Save your time and money by reaching out to your emergency dentist in Richardson first.
What Is A Dental Emergency?
There is a wide variety of dental emergencies. If you find yourself with a traumatic injury, such as a broken jaw or severe bleeding, you should visit your local emergency room. Some emergencies that a dentist can help you with are:
Cracked or loose teeth
Inflamed, bleeding gums
Abscesses
Painful toothaches
Frequent sensitivity
Knocked-out teeth
With hospitals being overwhelmed by the current crisis, it's a good idea to consider reaching out to your dentist first for help with a dental emergency. That way, you can allow hospitals to keep their focus on treating COVID-19 patients while benefitting from specialized care.
About the Author
Dr. Afshin Azmoodeh has been providing Richardson residents with emergency dental care for over twenty years. He invests considerable time in staying up to date on the latest procedures through continuing education and was even nominated as one of America's Best Dentists by the National Consumer Advisory Board. If you would like help with a dental emergency, you can reach out to him on his website or at 972-644-3800.