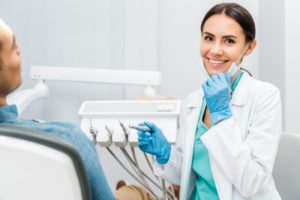 Whether it is a jam-packed work schedule, the stress of back to school season, or simply navigating life in 2020, there is a multitude of ways you can justify putting off your routine dental exam and cleaning. However, your regular appointments play a crucial role in your oral and overall health, which are a top priority considering the current pandemic. If you have recently contemplated postponing your bi-yearly visit, then your dentist in Richardson is sharing four reasons you should reconsider!
Give Your Teeth Some Post-Quarantine TLC
For many Americans, the stay-at-home orders meant pressing pause on the hustle and bustle of everyday life. While catching up on some much-needed R&R isn't inherently bad, the frequent snacking associated with it can wreak havoc on your teeth in more ways than one. Therefore, scheduling a post-quarantine dental visit is a must! That way, new stains, unpleasant chips, and potentially painful tooth decay can be treated before they turn into bigger concerns.
Routine Visits Can Catch Non-Dental Issues
Although routine visits play a crucial role in detecting tooth decay and gum disease, they can do more than just that! In fact, 90% of health concerns exhibit oral symptoms, which means your dentist can play a crucial role in early detection and intervention of non-dental issues as well. To ensure your overall health is in pristine condition, your dental team will also look for symptoms of diabetes, HIV, and osteoporosis during your examination.
Regular Appointments Are a Crucial Part of Your Oral Hygiene Routine
Brushing your teeth twice a day and flossing daily are the crux of your dental care regimen. However, it is important to remember that regular appointments at your dentist's office also play a crucial role in your oral hygiene routine. After all, the tools they have at their office provide a far superior clean and can even remove stubborn plaque and tartar. Not only can this keep your teeth looking bright, but it can also prevent gum disease and tooth decay!
Your Dentist Is an Expert in Infection Control
Since extensive research is still underway on the Coronavirus, many patients wonder if they should postpone their routine visit until the pandemic has subsided. While taking measures to limit your exposure is crucial, it is important to note that your dentist is an expert in infection control. Plus, they have implemented additional sanitation and safety measures to ensure you can get the oral care you need without compromising your peace-of-mind. Therefore, you can expect the below protocols being enforced at your next visit:
Social distancing guidelines (i.e., contactless greetings, sequenced patient scheduling, etc.).
Extensive sanitation measures (i.e., hand sanitizing stations, anti-microbial rinse, etc.).
Additional personal protective equipment (i.e., face shields, disposable coats, etc.).
New appointment options (i.e., expanded patient appointments, family-friendly scheduling, etc.).
Daily health checks for the staff (i.e., no-contact temperature checks, wellness questionnaires, etc.).
Although it can be tempting to push off your routine visit, it is of the utmost importance that you prioritize your bi-yearly appointments. That way, your oral and overall health can remain in pristine condition for years to come!
About the Author
For nearly two decades, Dr. Afshin Azmoodeh (a.k.a. Dr. A.) has used his extensive education, impressive clinical skill, and passion for dentistry to provide his patients with world-class care that is second to none. In fact, he was even nominated as one of "America's Best Dentists" in 2015 and 2016! If you are overdue for your bi-yearly visit or looking for a family dentist in Richardson, don't hesitate to visit his website or give him a call at 972-644-3800.