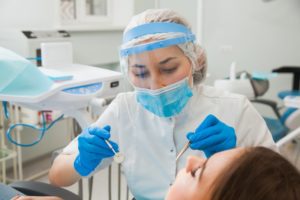 The COVID-19 pandemic has put infection control at the forefront of everyone's minds. From grocery shopping to connecting with others, many aspects of our everyday lives have changed to keep ourselves, our loved ones, and our communities healthy. If your biannual dental checkup is on the horizon or if you have a painful tooth, you may be wondering "Is it safe to go to the dentist?" Thankfully, your Richardson dentist has implemented a variety of new safety precautions to keep you safe while providing the dental care you need. Read on to learn what they're doing to safeguard everyone's wellbeing when you visit them during COVID-19.
Your Health Is in Capable & Clean Hands
While your dental team has always adhered to the highest standards of sanitation, they're following even more protocols to prevent the spread of germs, including:
Daily health checks: Every team member's day starts with a no-touch temperature check and a quick set of questions to ensure they're ready and able to provide excellent, safe dental care.
Personal hygiene standards: Team members will no longer wear rings, watches, or any other kinds of hand jewelry to ensure their regular handwashing is as effective as possible.
Your Safety Starts Before Your Appointment
Safety begins as soon as you call to schedule your appointment, when you'll notice:
Sequenced patient scheduling: This allows more time for cleaning between appointments as well as more physical space between patients.
Family-friendly appointments: Not only is bringing the whole family in for dental care at the same time convenient, but it limits the need for multiple trips out of the house.
Patients Are Asked to Take Precautions Too
Everyone must do their part to stop the spread of COVID-19. When you arrive for your appointment, you'll be asked to:
Take a no-touch temperature check and quick health questionnaire: Patients with signs of sickness may be asked to reschedule their appointment.
Sanitize your hands: Disinfecting your hands with sanitizer ensures that no outside germs are brough into the treatment area.
Dentists Are Experts at Infection Control
Long before COVID-19, dentists have been practicing excellent infection control protocols to keep you safe from sicknesses like the common cold and the flu.
Increased PPE: Personal protective equipment like N95 masks, face shields, and disposable protective coats will be worn to prohibit the spread of germs.
CDC-approved instrument sterilization: All dental tools and equipment are disinfected using methods outlined by the CDC, including high heat, steam under pressure, and chemical vapor.
While the COVID-19 pandemic has changed many aspects of our lives, it hasn't changed your dentist's commitment to your wellbeing. If you need to visit your "dentist near me" sometime soon, you can rest assured that they're taking every precaution to keep you safe.
About the Practice
At Canyon Creek Family Dentistry, the health of our patients, staff, and the community of Richardson, TX have always been our top priorities. We have been closely monitoring the COVID-19 pandemic as well as the recommendations of the CDC. Alongside our already ambitious levels of care, we have added several new infection control protocols to ensure our office is as clean and germ-free as possible. To learn more about our Commitment to Safety, more information can be found on our website or at (972) 644-3800.