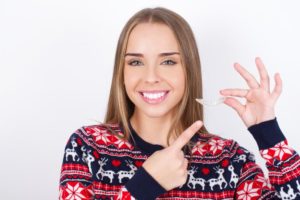 For most of us, the holiday season is the busiest time of year. People in industries such as retail need to spend more time at work, while others are planning vacations and get-togethers with friends and family. If you're currently wearing Invisalign, it's important to not let the hectic schedule of the holidays throw your treatment off course. As you're enjoying the hustle and bustle of the happiest time of year, keep these four tips in mind to avoid falling behind with your Invisalign in Richardson.
Make Sure You're Wearing Your Aligners Often Enough
It's all too easy for Invisalign patients to forget to wear their aligners during the holiday season. Remember that if you don't wear them for at least 20 to 22 hours a day, your teeth won't shift as quickly, prolonging your treatment time. Try setting periodic reminders on your phone so that you stay on track.
Know When to Take Out Your Trays
While you should wear the aligners as much as possible, there are situations where you absolutely must remove them. One example is right before sipping hot chocolate or other warm holiday beverages. Hot liquids can warp the plastic of the aligners, altering their shape to the point where they may move your teeth in the opposite direction as intended. Not only does this cause a delay in your treatment, but you might find that it hurts when you switch to the next pair of aligners and your teeth aren't in their expected positions. You can prevent these issues by taking out your trays before drinking anything besides plain water.
Always Keep Your Storage Case on Your Person
Before eating a meal, some people absentmindedly set their aligners down on a napkin, where they could accidentally get thrown away. When this happens, the patient would need to call their dentist and wait up to a few days for new aligners to arrive. To reduce the risk of misplacing your trays, keep your Invisalign storage case with you at all times.
Take the Time to Brush and Floss After Eating
It may seem inconvenient, but it's worth taking a few minutes to brush and floss after eating and before placing your aligners back in. Otherwise, they might trap food debris and bacteria against your teeth, contributing to bacterial growth that causes odor, discoloration, and tooth decay. Whenever you go to a holiday gathering where food will be served, remember to bring a travel-sized tube of toothpaste, toothbrush, and floss container.
With all of the things on your plate this holiday season, staying on track with your Invisalign treatment will give you one less thing to worry about. Just follow these tips and you can look forward to a brighter, straighter smile at this time next year!
About the Author
Dr. Afshin Azmoodeh, known to his patients as Dr. A, is a dentist in Richardson with nearly 20 years of experience in the field. He provides Invisalign to teens and adults alike, and he's always happy to give patients advice for finishing their treatment in a timely manner. For more tips on wearing Invisalign during the holiday season, you can reach out to Dr. A by calling Canyon Creek Family Dentistry at 972-644-3800.