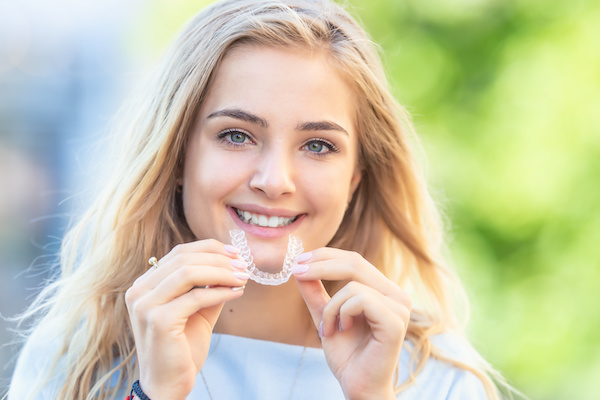 We're looking forward to another hot summer here in Texas, and we have already had some record-breaking heat days! If you are ready for an appearance as spicy as the thermometer to help you take on everything June, July, and August have to offer, then you may want to consider these three treatments from your cosmetic dentist in Richardson. Keep reading to find out what they are, and how each one can help to perfect your smile!
Teeth Whitening
As we age, the shade of our teeth can go from perfectly pearly white to less-than-stellar. For a quick transformation that can greatly boost your smile confidence, consider teeth whitening. This treatment can lift stains and break through discoloration for stunning results up to eight shades brighter. In-office whitening and take-home kits are available, depending on your timeline and personal preference.
Porcelain Veneers
For more significant imperfections affecting the teeth that show when you smile, porcelain veneers are a wonderful option. They are beautiful coverings customized for your smile that are securely bonded on to completely cover the front surface of the front teeth. The treatment for porcelain veneers can be completed in as little as two weeks – giving you plenty of time to prepare for that upcoming wedding, reunion, or just for a fun 4th of July.
Invisalign Clear Braces
If you are hesitating to flash your smile because you are concerned about slight gaps, overlapping teeth, or other misalignments, then there has never been a better time to consider Invisalign. This clear braces system can transform the appearance of your grin without the need for any metal whatsoever. While you won't see the full results right away, summer is a great time to get started because your schedule may be a little more flexible – and you will start to see some improvements by the time the dog days are over and we're heading into the new school year and then the holiday season!
There you have it – the top three cosmetic treatments for dazzling summer smiles. Don't wait to get started on your transformation to look your best by the pool, beach, or wherever you choose to get your R and R.
Meet the Cosmetic Dentist
Dr. Afshin Azmoodeh has been offering excellent dentistry for Richardson friends and families for over 20 years. In fact, he was nominated as one of America's Best Dentists in 2015 and 2016 – and he continues to provide the same top-notch level of care day in and day out. He is especially passionate about helping patients transform their smiles with cosmetic dentistry treatments. To learn more about your options, don't hesitate to get in touch by calling (972) 644-3800.