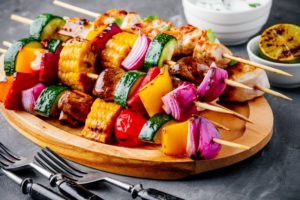 Eating your favorite foods at the summer cookout is always a good time. Well, maybe not always. If you have missing teeth, you might not be able to comfortably eat what you used to enjoy, no matter how much you want to. Fortunately, there's a solution to help you partake in mouth-watering summer foods once again – get dental implants in Richardson! Read on to learn more from your implant dentist about this tooth replacement method and why you should consider it.
What Are Dental Implants?
Unlike other restorative treatments, dental implants are designed to replace the entire structure of your natural tooth, from the very top down to the root beneath the gumline. It's often considered the gold standard of tooth replacement.
There are three main components to a dental implant: the implant post, the final restoration, and the abutment (small connector piece). The titanium post is surgically inserted into the jawbone to mimic natural roots, then a restoration is attached to the abutment to replace the crown of your missing tooth. Its unique placement encourages a healthier, stronger jawbone and gives you a new smile that looks, feels, and functions just like your old one!
Summer Foods That Are Safe for Implants
Because dental implants fuse to the jawbone, you don't have to worry about them slipping or sliding around while eating. Once fully healed, they restore up to 75 percent of your original chewing capacity so you can eat pretty much anything!
Although you should always bite carefully, you can safely enjoy the following summer foods with dental implants:
Corn on the Cob – You can eat corn right off the cob with dental implants. However, if you want to play it safe, simply remove the kernels with a knife and eat them with a spoon or fork. This technique will help prevent them from getting stuck in between your teeth and implants.
Fresh Fruits – Even without dental implants, you should always try to limit your intake of sugary treats that can wreak havoc on your smile. Do you have a serious sweet tooth? Satisfy your craving with tasty fresh fruits! Berries and melons are a couple of examples that contain natural sugars and are gentle on your new teeth.
Grilled Vegetables – Grilled veggies are a must at every cookout! Throw some fresh zucchini, squash, or bell peppers on the grill to cook and soften them. They will taste delicious and are much easier to eat.
Advice for Eating with Dental Implants
Here are some tips to keep in mind when eating with dental implants:
Stay away from hard foods as they can break your restorations (nuts, ice, popcorn kernels)
Limit your intake of sugary, acidic, and processed foods
Maintain good oral hygiene (brush your teeth twice a day and floss daily)
See your dentist biannually for routine cleanings and exams
Are you ready to restore your smile and eat confidently at the summer cookouts? Ask your dentist in Richardson about dental implants. Before you know it, you'll be enjoying all your favorite foods once again!
About the Author
Dr. Afshin Azmoodeh has been serving the smiles of Richardson for nearly 20 years after earning his dental doctorate from Texas A&M. A member of the American Dental Association, he is proud to have been a two-time nominee for "America's Best Dentists." If you are interested in dental implants, Dr. Azmoodeh can perform placement and restoration at his office location, and he utilizes 3D cone-beam imaging for precise implant placement. Schedule a consultation on his website or call (972) 644-3800.