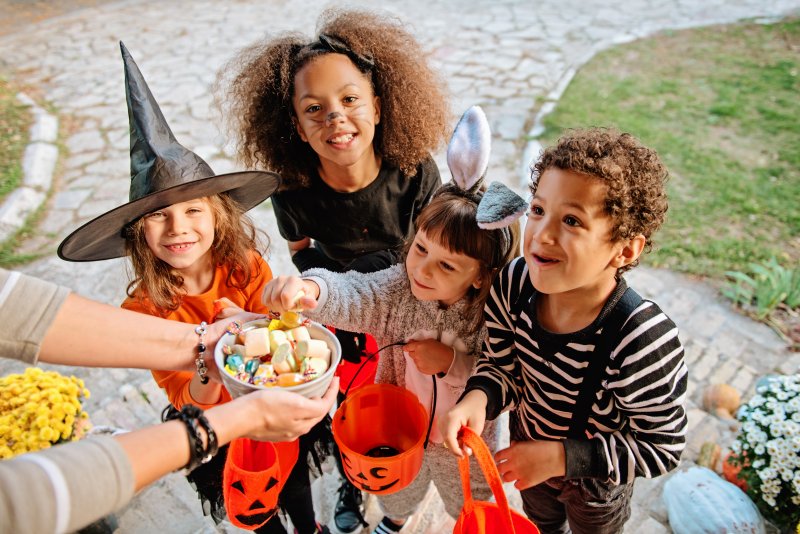 Halloween is just around the corner! Are you and your child ecstatic to pick out costumes and go trick-or-treating? Other than putting up creepy decorations and watching scary movies, you'll likely also be excited to stockpile all your favorite candies. Although these sweet treats make this holiday fun, they can also make your teeth vulnerable to dental issues, like cavities. Read on to learn four Halloween oral health tips to help you and your little one preserve your pearly whites!
#1: Encourage Proper Oral Hygiene Habits
You should ensure that your child practices a solid oral hygiene routine to help prevent problems like dental decay and gum disease. These habits should include brushing twice a day for two minutes and flossing daily. Try encouraging them to refrain from poor oral habits, such as biting their fingernails, chewing on ice, or using their teeth as tools.
#2: Be Picky About the Candy They Eat
Coming back home from a long night of trick-or-treating, your little one may have a collection of all kinds of sugary treats. While eating an abundance of candy isn't generally good for their teeth, some kinds of snacks can be better than others. For instance, unlike chocolate which can typically be rinsed off easily, sticky treats can stay on your smile longer, increasing the risk of cavities. Make sure they stay away from hard or sticky candies, such as lollipops and taffy.
#3: Allow Them to Eat Candy Only After a Healthy Meal
You don't have to keep your child away from all of their favorite sweet treats, but you won't want them to hold off on a well-balanced diet. For this reason, you might consider allowing them to indulge in their snacks after munching on a vitamin-rich, nutrient-dense meal. This will keep them filled while also promoting healthy saliva production, which will help naturally wash away sugary food particles.
#4: Schedule Their Next Biannual Checkup & Cleaning
Has it been longer than six months since your child's last visit to their dentist? If so, now would be a good time to schedule their second dental checkup and cleaning. Their dentist will be able to monitor their mouth and address any issues early on, such as cavities. They'll also thoroughly remove debris, bacteria, and plaque from their mouth, reducing their oral health risks in the long run.
Halloween should be an enjoyable time of the year without having to worry about you or your little one's teeth. Keep these tips in mind, and you'll be able to help your child maintain a clean and healthy smile during the spooky season!
About the Author
Dr. Afshin Azmoodeh studied at the Texas A&M College of Dentistry. He has nearly two decades of experience, is a member of the American Dental Association, and regularly seeks continuing education to expand his expertise. He offers a wide range of advanced services, including dental checkups/cleanings, fluoride treatments, and periodontal therapy. If you'd like to schedule an appointment, visit his website or call 972-644-3800.