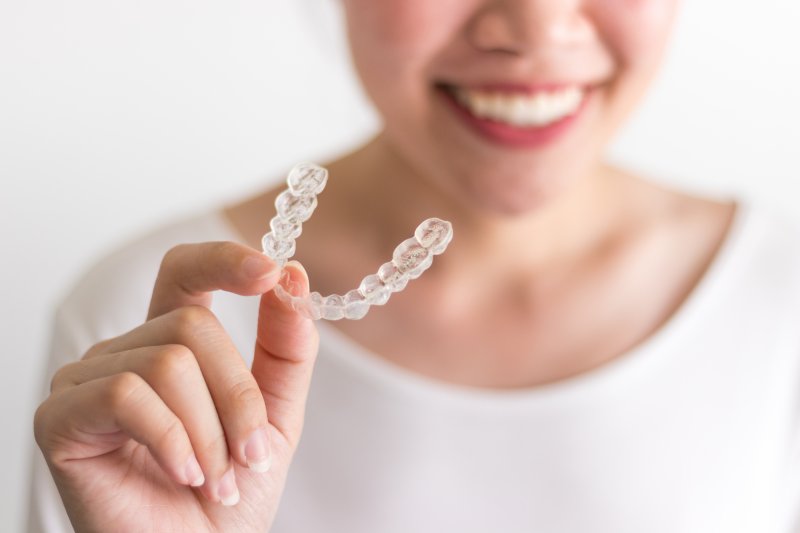 So, let's say you've settled on getting clear aligners in Richardson. That's a great choice! Unlike metal braces, aligning trays are discrete and only need a year to work. Even so, you may struggle with whether SureSmile or Invisalign is the better option. After all, just how do they differ from one another? Well, your local dentist is here with an answer. Here's a comparison of SureSmile and Invisalign that'll help you decide which is right for you.
How Does SureSmile Work?
SureSmile aligners are clear, plastic trays you wear on your teeth. Customized to fit snugly over your pearly whites, they use micromovements to straighten your smile over several months. So long as they stay in your mouth for twenty hours daily, you can expect treatment to last about a year.
SureSmile is much easier to work with than metal braces. The aligners are hardly noticeable and are removable for eating and teeth-cleaning. Plus, these trays don't need tightening — you only need to switch them out for new ones every few weeks.
What About Invisalign?
Admittedly, the Invisalign system is a lot like SureSmile. As with the latter, it has you wear clear aligners with no metal brackets or wires. Their trays are equally removable, too, and require the same twenty-hour wear time. It even has a similar schedule for switching old aligners for new ones.
Even so, there are some differences. Unlike SureSmile, the Invisalign brand is the only one to offer SmartForce ™ Attachments — small tooth-colored shapes that enhance the treatment process. Furthermore, it provides its wearers with a patient portal and app as engagement resources.
Which One is Right for You?
Some dentists suggest one brand over another, but your ideal will depend on your situation.
For instance, you might want to get SureSmile for price and comfort. It's cheaper than Invisalign, and its plastics are more comfortable.
Still, you might stick with Invisalign for its pedigree. Though pricier than SureSmile, it has more resources. Invisalign is also an older brand, thus having more proven results. One example is a clinical trial that showed how well its trays work for teens.
Given this comparison, you should have an idea of which clear aligners in Richardson are right for you. That said, talk to your local dentist before making a final commitment.
About the Practice
Canyon Creek Family Dentistry is based in Richardson, TX. As led by Dr. Afshin Azmoodeh, the practice offers comprehensive dental care at a convenient location. In particular, its staff can perform preventive, cosmetic, and restorative dentistry, including emergency treatments. The team is also a qualified provider of both SureSmile Aligners and Invisalign Clear Braces. For more information or to book an appointment, you can reach them at their website or by phone at (972)-644-3800.