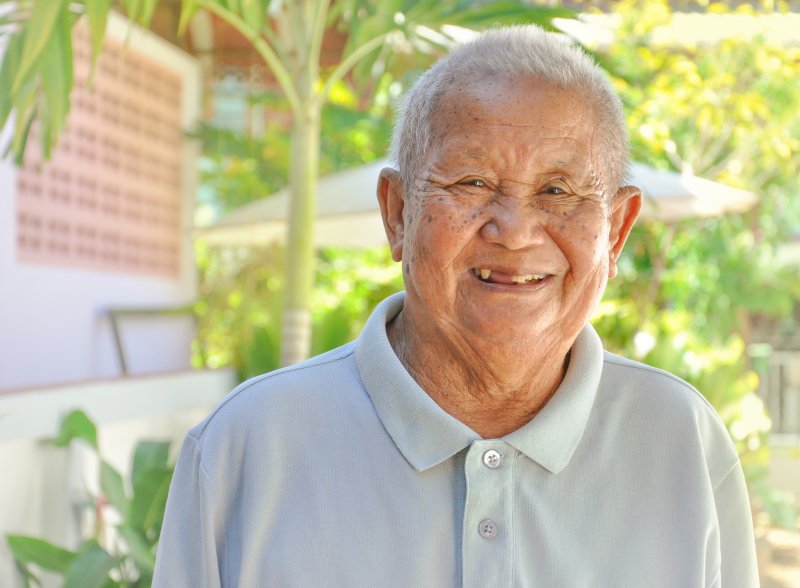 You may think tooth loss' initial effects are bad enough. After all, such things include increased difficulty with eating, speaking, and even smiling. However, did you know losing teeth also changes face shape? Indeed, the change makes you seem older if not treated quickly. Still, you could always get dental implants to solve that problem. Here is a summary from your dentist of how missing teeth can harm your facial shape.
Tooth Loss' Effects on Face Shape
Besides causing smile gaps, tooth loss has other ways of harming your looks. In particular, it can gradually change your face's shape.
You see, your jawbone needs teeth to preserve itself. Pearly whites provide a stimulus that maintains the former's tissues. Once they fall out, your jaw starts to erode near its now-empty sockets. Left unchecked, that erosion will result in facial collapse, a condition that severely ages your face.
Cosmetically speaking, facial collapse causes things like:
A Prominent Frown – Without sufficient bone in your jaw, your mouth's corners will start to lose shape. This decline will make you seem unhappy or even angry without knowing it.
Wrinkles – A loss in the jawbone's height will lead to changes in facial angles and size. From there, your face will develop wrinkles and seem sunken or hollowed.
Thinning Lips – When there aren't teeth to support your lips, the latter will start to look thin. Plus, weakened mouth muscles can make lips seem longer.
How Dental Implants Help
Due to their unique features, implants prevent and even reverse an aged face. In fact, they're the only dental restorations that can!
This is due to their permanency. Unlike dentures or bridges, they fuse with your jawbone and stimulate its sockets. In doing so, these prosthetic teeth grow and preserve nearby bone tissue. The long-term effect is a strengthened, fuller jaw that keeps your face from looking saggy! You thus won't have to worry about any premature aging.
Still, it isn't like the implants do all the work. They'll only help you seem young if you give them proper care. Therefore, brush them twice daily, floss them once daily, and rinse them with mouthwash as needed. The restorations could fail early otherwise.
Ultimately, implants can restore both your face's shape and your smile. That being the case, book treatment with your local dentist soon!
About the Practice
Canyon Creek Family Dentistry is based in Richardson, TX. Led by Dr. Afshin Azmoodeh, our practice offers effective and comprehensive dentistry. To that end, we perform preventive, cosmetic, and restorative treatments, as well as emergency dental care. Our office also prides itself on offering top-of-the-line dental implants that restore smiles! For more information or to book a visit, you can reach us on our website or by phone at (972)-644-3800.