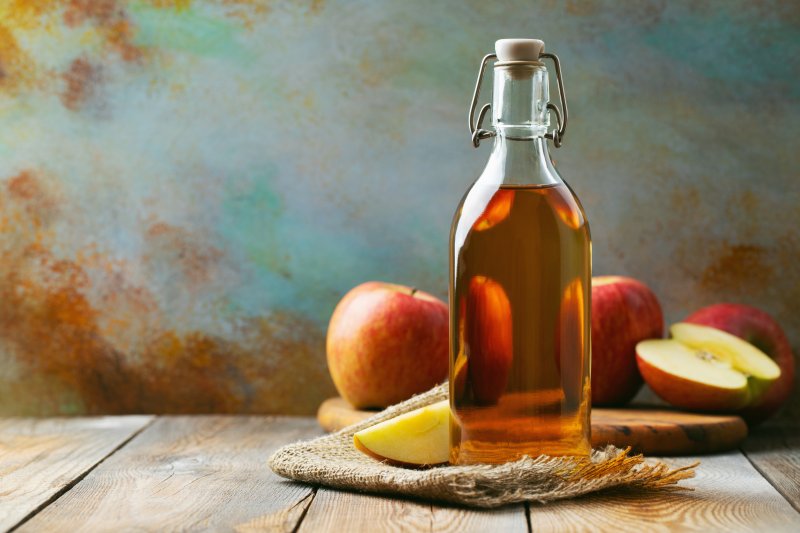 For centuries, apple cider vinegar has been touted by thousands as a popular home remedy used for cooking and medicine. Many people claim it helps with several health issues, including high cholesterol, blood sugar levels, obesity, and high blood pressure. But despite its many benefits, apple cider vinegar can harm your pearly whites if you're not careful. Read on to learn about the oral health risks of this acidic substance and how you can use it as safely as possible.
Can Apple Cider Vinegar Damage Your Teeth?
One of the most popular reasons why people use apple cider vinegar is because there are multiple claims that it whitens teeth. While it can brighten your smile, the risks of using it on your smile outweigh the benefits.
Like other kinds of vinegar, apple cider vinegar is highly acidic. Prolonged exposure to the substance can damage your tooth enamel, affect how your throat feels, and even interact with medications you're taking. If you're not careful, dental erosion can lead to sensitivity, discoloration, damage to fillings, increased risk of cavities, and tooth loss. That's why you need to exercise caution when using apple cider vinegar for your mouth.
How to Safely Use Apple Cider Vinegar
Apple cider vinegar can pose a serious risk to your oral health when it's highly concentrated. While it's best to avoid using it, here's what you can do to minimize the risk of damage if you're trying to whiten your teeth:
Dilute it. The best way to use apple cider vinegar is by diluting it. You can create a diluted solution of one part apple cider vinegar to two to three parts warm water. Since the acidity can vary between 4% and 8%, you may have to adjust the mix. Make sure you know what you're working with!
Swish it. Just like how you use mouthwash, you can swish apple cider vinegar in your mouth for about 20 seconds at a time before spitting it out. If needed, you can repeat this step a couple of times.
Rinse your mouth. After you've gargled apple cider vinegar, make sure you brush your teeth and rinse your mouth out with water. You want to avoid letting the acids from the substance be in contact with your teeth for too long. That way, you can reduce the amount of damage apple cider vinegar leaves on your mouth.
About the Practice
At Canyon Creek Family Dentistry of Richardson, we are passionate about providing only the best service to our patients. From routine checkups to complex restorative treatments to smile-enhancing cosmetic dentistry, we've got everything you need in one convenient location. We also value patient education and will always be here to inform you on the best practices for your oral health. To learn more about the risks of apple cider vinegar and how you can use it safely, visit our website or call (972) 644-3800.