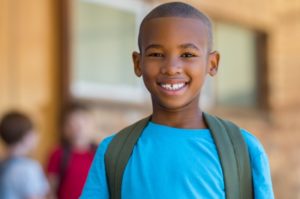 Fall is approaching fast, which means it's time to start making sure your kids have everything they need for the new school year. New pencils, new backpacks, maybe new clothes – there's a lot to take care of! But one task that definitely needs to be on your checklist is "see the dentist in Richardson." Here's why you should take advantage of your last opportunity to schedule summer dental checkups.
Why Do My Kids Need to See the Dentist?
Your child should start receiving preventive care as soon as their first baby teeth erupt. Cavities can strike at any age, and they can cause a lot of pain and possibly tooth loss if they're not treated. The threat of tooth decay is especially high during the summer when kids are more likely to be enjoying sugary treats such as ice cream and soda.
By visiting a dental office every 6 months, you make it more likely that oral health problems will be found and treated before they can cause too much damage. The dentist can also help prevent cavities and gum disease from happening in the first place with thorough cleanings and additional forms of preventive care such as dental sealants and fluoride treatment.
Why Should I Schedule an Appointment During the Summer?
It can be difficult to schedule dental visits and other medical appointments during the school year; you don't want your child to miss too much class, after all! By coming in during summer break, you can avoid such conflicts and find a time that's more convenient for everybody.
Another possible benefit of a summertime dental appointment is that your child is likely to be more relaxed in general during their vacation. This can help the visit go smoother than it would otherwise; this is especially important for encouraging kids to continue practicing good oral health into adulthood.
What Will Happen During My Child's Appointment?
Regular dental cleanings get rid of food particles, bacteria and plaque on your child's tooth; hardened tartar that's unaffected by regular brushing is also removed. The dentist will then examine the teeth for abnormalities. Sometimes an examination will include an X-ray that can identify potential development issues.
Afterwards, you'll be advised on how you can better promote your child's oral health. For example, there might be certain areas of the mouth that need more attention while brushing, or some dietary changes might be suggested to promote stronger teeth.
Don't be afraid to ask questions or voice any concerns; dental checkups are focused on prevention, so they're the perfect opportunity to discuss potential problems. Make sure your little one's smile is healthy, bright and beautiful so that they're ready for the new school year!
About the Practice
At Canyon Creek Family Dentistry, our dentists have received some of the finest education available in the country; they can offer a wide variety of services while still giving you and your family the attention and care you'd expect from a family-owned practice. To schedule your child's back-to-school appointment, visit their website or call (972) 644-3800.