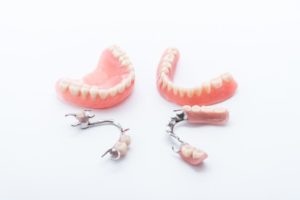 If you have missing teeth, you're probably well aware of the everyday struggles that you're faced with due to them being gone. Instead of letting your self-esteem plummet because of an incomplete smile and having difficulty completing everyday tasks like speaking and chewing, consider dentures in Richardson. These natural-looking prosthetics come in multiple designs and styles so you can choose the one that's best suited for your lifestyle. Read on to learn about three different types of dentures and how to know which one is right for you.
Full Dentures
If you're missing an entire arch or all of your teeth, full dentures may be the best restorative option for you. There are two main components to them, including a flesh-colored base that's acrylic and natural-looking replacement teeth. The base is custom-designed to fit comfortably over your gums and use natural suction paired with denture adhesive to stay securely in place. If you're missing the lower arch of teeth and are getting dentures, they're specially designed to not inhibit the movement of your tongue.
Before being fitted for your dentures, you may need to undergo a tooth extraction procedure to remove any remaining teeth. Your dentist will send the measurements and impressions of your mouth to a dental laboratory to custom-craft your restorations for maximum precision.
Partial Dentures
Missing a few teeth canjust as much of an impact on your daily life as missing all of your teeth. Partial dentures can fill these gaps restore the function and look of your smile. They're specially crafted to fit securely between your natural teeth using metal clasps that grip to them. There are also attachment pieces that are less noticeable and made from a natural-looking non-metal alternative. The replacement teeth are typically made from porcelain or acrylic to mimic the appearance of your remaining natural teeth. These are also hard and durable materials that can last over seven years when they're properly cared for.
Implant-Supported Dentures
One of the latest restorative procedures available to people suffering from tooth loss is dental implants in Richardson. This procedure uses the latest technology in the dental world to rebuild the structure of teeth from the root up, preventingt jawbone deterioration and allowing for a completely natural feel. Over the course of several months, your implant dentist will surgically place titanium posts under your gums that will naturally fuse with your jawbone to encourage blood flow.
After your gums have healed, your dentist will then place a connector piece on the implants that will secure your bridge, denture, or crown in place. This way, you won't have to worry about shifting or slipping, and the force of your bite will be restored. Many patients prefer implant-retained restorations because whether you're replacing a single tooth or an entire arch, this option doesn't require altering your remaining natural teeth in order to support your replacement teeth.
The best way to learn which denture style is best for you is to schedule a consultation with your dental professional. They will inspect your mouth and discuss all of your options with you to make sure you make the decision that incorporates best into your lifestyle.
About the Author
Dr. Afshin Azmoodeh has been helping restore smiles in Richardson for over 20 years. He understands the everyday inconveniences and embarrassing moments that missing teeth can cause people, which is why he offers the most advanced restorative option, dental implants. He was nominated as one of "America's Best Dentists" in both 2015 and 2016 and has received specialized training in implant placement and restoration. For questions or to schedule a consultation for dental implants, visit Canyon Creek Family Dentistry's website or call 972-644-3800.