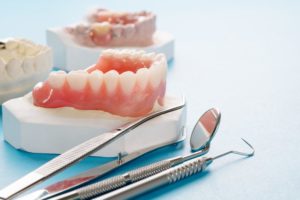 Do you have dentures in Richardson to replace your missing teeth and restore your quality of life? Are they doing their job correctly? If you're experiencing any discomfort or certain symptoms, it may be time to replace your restorations. Over time, the shape of your face and mouth will begin to change due to jawbone loss, causing your dentures to slip and shift at the most embarrassing moments. Read on to learn when you should schedule an appointment with your dentist and if dental implants may be a better solution to replace your teeth.
How Long Do Dentures Last?
Dentures can last between five and 10 years with the proper care. However, in that time, they may need to be relined or readjusted as the shape of your mouth changes. Once they become too loose or unfitted, they'll need to be remade by your dentist in Richardson. If you have any underlying health issues, it's possible that your dentures may not last as long, which is why it's important to continue to visit your dentist regularly.
4 Signs You Need To Replace Your Dentures
If you notice any of these four signs, don't hesitate to contact your dentist as soon as possible because your dentures need to either be replaced or readjusted.
Chips, Cracks, or Damage
Dentures are fairly fragile, which is why it's so important to carefully handle them while cleaning them. If you notice a chip, crack, or fracture on the base or replacement teeth of your dentures, then it's time to get them repaired or replaced.
Slipping or Shifting
If your dentures are slipping or shifting in your mouth, it can be caused by either the loss of jawbone density or them being worn down. Your dentist may be able to adjust them to solve this problem and prevent sores from developing.
Oral Sores
If you notice pressure sores developing in your mouth, it may be a sign that your dentures aren't evenly distributing your bite force across your dentures and that they need to be adjusted or replaced. As you chew, one area of your mouth will be doing the brunt of the work, causing irritation and wounds to form.
Denture Color Changes
If you notice that your restorations are changing in color, this is a result of wear-and-tear, aging, and eating stain-causing foods and beverages. Even if you have great oral hygiene, this is an inevitable effect of aging dentures and a sign they need to be replaced.
The Modern Alternative To Dentures
After having dentures for years, do you still feel like they're a good fit for your lifestyle? Some people don't know that they have other options available to them to replace their missing teeth. Dental implants in Richardson replace the entire structure of your teeth from the root up to prevent jawbone deterioration. They also offer a more stable and stronger base for your dentures to be secured to rather than simply resting in your gums. The best way to learn whether dental implants are a good solution for you is to schedule a consultation with your dentist.
About the Author
Dr. Afshin Azmoodeh has been providing his community of Richardson with comprehensive dental care for over 20 years. He understands the impact that missing teeth can have on a person, which is why he offers some of the most modern restorative solutions like dental implants. This way, his patients can rest assured that they have quality replacement teeth that are easy to care for and can last for decades. For questions or to schedule a consultation for dental implants, visit Canyon Creek Family Dentistry's website or call 972-644-3800.