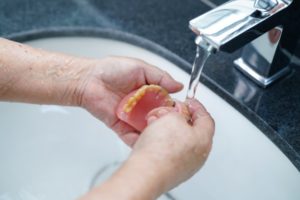 Have you had your dentures in Richardson for years and noticed that they are beginning to slip and shift in your mouth more often? Not only can this problem make it difficult to complete basic tasks like being able to chew and speak properly, but it can also cause additional oral health issues to develop if it isn't fixed by a professional. While minor damage or a fit that's not as snug as it once was seems like a simple inconvenience, it can be much more serious than that. Learn how visiting a dentist to get your restorations readjusted or replaced could save you problems down the road.
Signs of Poor-Fitting Dentures
Over time, your facial structure and mouth will change due to missing teeth, which is why your dentures will need to be replaced and readjusted from time to time. There are several signs you may experience that signal you'll need to visit a dentist in Richardson to readjust them to fit your changing mouth, including:
General discomfort while wearing them.
Dentures that slip or shift in your mouth.
Difficulty speaking.
Difficulty eating and swallowing food.
Pain and bleeding in the gums.
A clicking noise while eating.
Bad breath or a strange taste in your mouth.
You may also experience more long-term symptoms such as inflammation, oral sores, and infection. The best way to keep these from occurring is to visit your dentist every six months. They'll be able to spot and diagnose these issues in their early stages, avoiding more severe oral damage.
Problems That Can Develop From Dentures That Don't Fit Your Mouth
While there are many uncomfortable immediate signs of ill-fitting dentures, there are some more serious health problems that can occur further down the road because of them. Over time, you may notice:
Oral Pain- people with TMD that have poorly fitting dentures may experience an intense amount of pain and discomfort because they could cause further jawbone misalignment.
Ear Pain- it's likely that pressure will build, causing the ears to ache or hurt.
Uneven Bite- dentures that aren't fitted to your mouth properly can cause an uneven bite to develop, resulting in saliva pooling at either side of the mouth, an overgrowth of yeast, and even an infection.
There is hope if you suffer from any of these problems. Be sure to visit your dentist and let them know of the signs you're experiencing. They'll examine your mouth and restorations and see whether they need to be readjusted or replaced.
Getting Dentures Replaced or Repaired by a Professional
Nowadays, if your dentist suggests that your dentures need to be replaced, you'll have more than one choice. Dental implants are the most modern restorative solution that anchors your replacement teeth to your jaw, preventing jawbone deterioration and improving your bite strength. However, if your professional recommends getting them repaired, they can either add material to the base of them to improve the fit or send them to the dental laboratory.
Seeking help if you're experiencing any signs of ill-fitting dentures in Richardson can save you from developing serious issues down the road, like an uneven bite. Whether you get them replaced or repaired, properly fitting dentures are a necessity to a good quality of life and a healthy mouth.
About the Author
Dr. Afshin Azmoodeh has been providing his patients in Richardson with high-quality comprehensive dental care for nearly 20 years. He's passionate about improving the health and appearance of smiles so his patients have another trait to feel proud of. He has received specialized training in the restoration and placement of dental implants and was nominated as one of "America's Best Dentists" in 2015 and 2016. For questions or to schedule a consultation for dental implants, visit Canyon Creek Family Dentistry's website or call 972-644-3800.