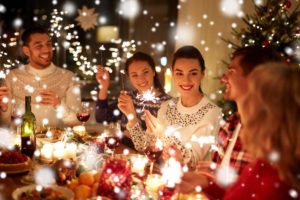 Making cookies, decorating the tree, and wrapping gifts are all tasks that belong on your holiday to-do list. But seeing an emergency dentist? Not so much. Painful toothaches, knocked-out teeth, and broken dental work can all ruin your holiday spirit pretty fast. Although you can always see an emergency dentist in Richardson for care, it's far better to prevent these situations altogether. Keep reading for some great ways to keep your smile healthy this holiday season, instead of sitting in the dental chair!
The Best Way To Prevent Dental Emergencies? Schedule Regular Checkups
Getting a checkup and cleaning is like getting a tune-up for your vehicle. These visits keep everything running smoothly and enable a dentist to find problems when they're small and easy to treat.
A perfect example is when a dentist finds a cavity that's so small that you don't feel it yet. This is when you can get a simple, inexpensive filling and prevent your tooth from further damage. If you aren't getting regular checkups, small cavities become larger and destroy more of the tooth structure. As they get closer to the nerve, they start to cause pain and can even lead to an emergency toothache.
Since dental emergencies often happen at the most inconvenient times (like Christmas day or New Year's Eve), save yourself a lot of hassle and discomfort by getting routine care from a dentist in Richardson.
Additional Tips To Prevent Dental Emergencies
Keep up with brushing and flossing – The cleaner you keep your teeth and gums, the healthier they'll be. Although the holidays are busy, do your best to brush for 2 minutes, twice a day, and floss once. If you miss a day or two of flossing, just pick up where you left off instead of throwing in the towel altogether. You can also use a fluoride (anti-cavity) mouthwash each day for extra cavity protection.
Be mindful of certain foods – Be careful when eating crunchy foods like peanut brittle and hard candies, especially if you have a lot of dental work. And try to brush as soon as possible after eating sticky foods like caramel, pecan pie, or chewy holiday cookies.
Wear a nightguard – If you clench and grind at night, wear a nightguard to minimize the chance of chipping or cracking your teeth.
This holiday season, you want to spend your time enjoying yourself instead of getting emergency dental work. With these simple tips, you will!
About the Author
Dr. Afshin Azmoodeh has been a general and emergency dentist in Richardson for nearly 20 years. While he always provides tips to help people prevent emergencies, his office is also open 7 days a week to provide immediate care whenever his patients need it. If you're having a dental emergency or have any questions, he can be reached via his website.