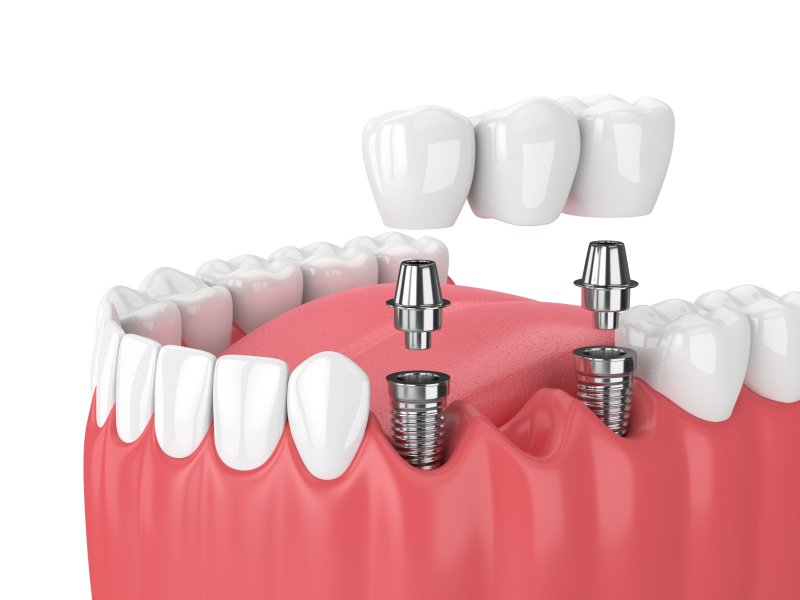 When teeth go missing, changes begin to occur inside the mouth almost immediately. However, it's a common misconception that just because a single tooth is missing, these changes won't necessarily occur. This is why implant dentists always recommend patients to replace teeth as soon as they can, particularly with modern solutions like dental implants in Richardson. Depending on how many teeth are missing, there are three types of dental implants to consider. Learn what they are and how a dentist can help determine which option will best suit your needs!
Single Implants
Keep in mind that dental implants are designed to replace the entire root structure of teeth, which makes them substantially more comprehensive of a tooth replacement overall. By addressing the missing root, you can expect your new tooth to prevent complications that typically occur as a result of tooth loss. This includes the risk of losing more teeth and changes in your facial appearance, both of which happen as a result of bone atrophy.
Bridge Implants
While dental bridges can fill large gaps, they don't do anything to address the underlying roots. In this case, a pair of dental implants can be used to hold a personalized bridge. What's unique about implant bridges is their ability to hold restorations that replace multiple teeth at a time even though a dedicated implant is not needed for every tooth that's replaced. For example, a pair of implants can replace as many as three missing teeth. A single implant can even hold a two-crown bridge, depending on the circumstance.
Denture Implants
Finally, dentists can replace an entire arch of teeth using implant dentures. In this case, dental implants are placed throughout the jaw (usually four to eight) so they can act as the new foundation for a personalized full or partial denture. They are similar to implant bridges in that there does not need to be a dedicated implant for each tooth that's replaced.
Not only are implant dentures significantly more reliable than traditional dentures, but they also last much longer because the implants prevent the jawbone from changing shape.
Which Solution is Right for You?
While it's clear that the type of implants you receive will depend on the number of teeth you have missing, it's also important to recognize their location as well. For example, if you have multiple single teeth missing throughout your mouth but they are all in completely different spots (i.e. non-consecutive) then single implants may better meet your needs. Alternatively, those in need of a replacement denture can confirm if it would make more sense to choose a partial or full implant version to make their smile complete.
No matter what solution you choose, the best way to determine the right option is to speak with an implant dentist directly. Call one today to schedule your very first tooth replacement consultation!
About the Author
Not only has Dr. Azmoodeh been practicing in Richardson as a dentist for over 20 years, but he's gone above and beyond to expand his education along the way. He has received specialized training in the placement and restoration of dental implants, making him fully qualified to replace any number of teeth entirely in-house. To schedule an appointment, you can contact him through his website.