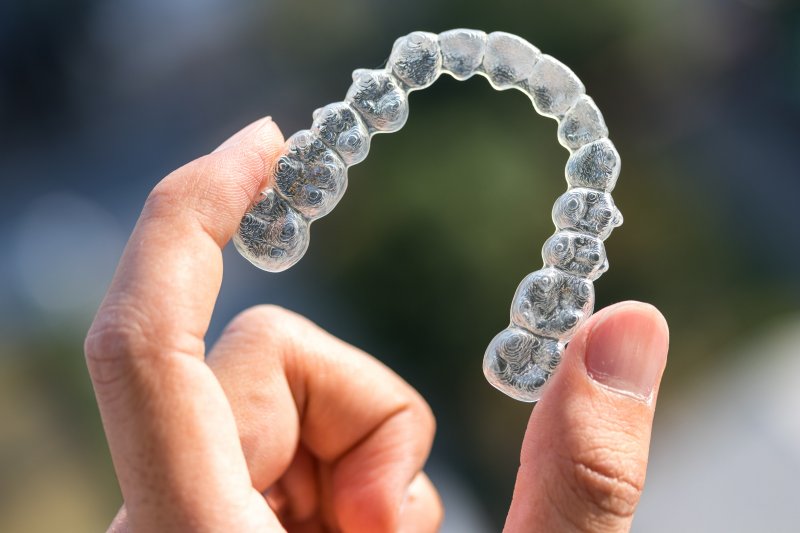 As you might know, Invisalign clear aligners are removable. In other words, you can (and should) take them out of your mouth for meals and teeth-cleaning. However, that doesn't mean you can just wear your trays when you feel like it. They should stay on your teeth for 22 hours daily for your treatment to work. This number might sound high, but you can reach it with the proper habits. Read on to learn some Invisalign wear time tips from your dentist in Richardson.
Why the 22-Hour Rule Matters
Like metal braces, Invisalign trays push teeth into better alignment through micro-movements. These small shifts are spread over several months to reduce patient discomfort. To make this process effective, patients regularly switch to a new tray straighter than the preceding one.
Given these features, aligners are only effective when they connect with teeth. Consequently, Invisalign recommends that patients wear their trays for 20-22 hours per day.
Failure to follow the 22-hour rule will throw your smile-straightening off track. More specifically, it'll give your teeth a chance to shift back to their earlier position. Should that happen, your treatment could be delayed, extended, or even undone.
Tips for Making the Invisalign Wear Time Realistic
Luckily, dentists have devised ways to make the 22-hour wear time doable. As you continue with Invisalign, consider following the tips below:
Take out your trays for 15 minutes at breakfast, 30 minutes at lunch, and 60 minutes at dinner. Doing so will leave wiggle room if you need a snack or to finish your oral hygiene regimen.
Keep mindful of your aligners with a smartphone app. Some, like Tray Minder, let you track your wear time throughout the day.
While your trays are out during dinner, place them in a glass of lukewarm or cold water with cleaning crystals. That way, they'll be ready to go back in your mouth once you're done eating.
Make your aligners part of your regular oral care. More specifically, brush, floss, and rinse after meals and then re-insert your trays.
Switch to each new tray directly before bed. Since you'll be sleeping soon after, you won't feel tempted to take the aligners out.
With these tips, your Invisalign wear time should be simple to reach. That said, return to your treatment to get that straightened smile as soon as possible!
About the Practice
Canyon Creek Family Dentistry is based in Richardson, TX. As led by Dr. Afshin Azmoodeh, the practice offers quality dental care at affordable prices. To that end, its staff specializes in preventive, cosmetic, and restorative dentistry, including various emergency procedures. The team is also a certified provider of Invisalign and Sure Smile Aligners. For more information or to book an appointment, you can reach them at their website or by phone at (972)-644-3800.