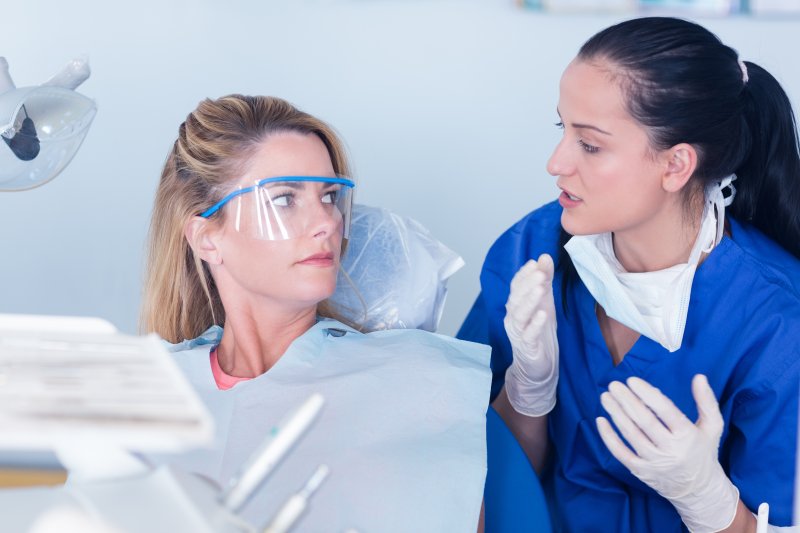 Veneers are a widely sought-after cosmetic solution that effectively addresses a range of dental concerns such as stains, cracks, chips, misshapen teeth, alignment issues, and gaps. Crafted from dental-grade porcelain, these thin shells require minimal removal of tooth enamel for proper adhesion. Given that enamel serves as a protective layer for your teeth, it is natural to question whether this process can lead to heightened dental sensitivity. Continue reading to discover the answer to this query and gain insights on relieving sensitive teeth.
Will Veneers Cause Sensitive Teeth?
Throughout the veneer procedure, a conservative removal of approximately half a millimeter of enamel takes place. Remarkably, this is nearly equivalent to the thickness of the veneer, ensuring a natural and non-bulky appearance for your smile.
Enamel serves as the protective outer layer of your teeth, and its damage can contribute to dental health problems, including cavities and heightened sensitivity. Consequently, you may question whether the removal of enamel during the veneer process will result in increased tooth sensitivity.
Similar to other dental treatments, it is important to anticipate some degree of sensitivity following the veneer procedure. This is a normal occurrence and typically lasts from a few days to a few weeks. However, it is worth noting that some patients may experience minimal or no sensitivity at all. If you find that the sensitivity persists for more than two months, let your dentist know.
3 Ways to Relieve Tooth Sensitivity After getting Veneers
Veneers, as they cover the entire front portion of a tooth, can potentially contribute to the prevention of sensitivity. By acting as a barrier, they hinder harmful bacteria from accessing the teeth and provide protection against the impact of hot and cold foods and beverages. Nonetheless, if mild sensitivity persists after the veneer procedure, there are several approaches you can take to alleviate it, including:
Brush your teeth – To minimize the risk of scratching your tooth enamel or veneers, it is advisable to use a soft-bristled toothbrush when brushing your teeth. Incorporate this practice into your routine after every meal to help reduce sensitivity.
Desensitizing toothpaste – This particular toothpaste functions by blocking pain signals from transmitting from the tooth surface and inhibiting the sensory nerves within, resulting in reduced discomfort.
Salt water rinse – Prepare a salt water solution by combining half a teaspoon of salt with a cup of lukewarm water. Gargling with this mixture twice a day can effectively alleviate pain and reduce inflammation.
While veneers may cause temporary tooth sensitivity, rest assured that this sensation is usually brief. Before you know it, you'll be fully embracing and enjoying your beautiful new smile!
About the Practice
If you're in search of a trustworthy dental practice to assist you in attaining a healthy and stunning smile, look no further than Canyon Creek Family Dentistry of Richardson. Under the leadership of Dr. Afshin Azmoodeh and Dr. Srujani Reddy Gadusu, their team offers porcelain veneers to address cosmetic imperfections, providing you with natural-looking and breathtaking results. Additionally, they are equipped to address any mild sensitivity you may experience following the procedure. To schedule an appointment with Canyon Creek Family Dentistry of Richardson or to acquire further information, visit their website or call (972) 644-3800.