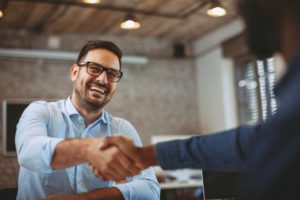 Whether due to an accident playing contact sports or dental hygiene problems, missing front teeth can have a dire impact on not just your oral health, but also your emotional and psychological well-being. Oftentimes, your smile is the first impression that people get of you, and feeling like you'd rather hide it than let it show can impact how you socialize and how others may perceive you. Fortunately, dental implants can restore your front teeth with replacements that look and function like your natural ones did—refueling your confidence and providing life-changing benefits. Read on to learn about the process of replacing front missing teeth with dental implants.
How Do You Know if You're a Good Candidate for Dental Implants?
While considering your options for replacing missing teeth, it's important to know what treatments you would be a good candidate for. This can help drive your decision-making process. Dental implants offer superior support and strength compared to traditional prosthetics, but before you can undergo the procedure, you'll need to have enough jawbone density for the implants to fuse with.
In some cases, patients may require preparatory treatments like a bone graft, sinus lift, or ridge augmentation to ensure the success of their treatment. While this may add some time to the process, it will prove to be well worthwhile, especially if your heart is set on replacing your front teeth with prosthetics that look and feel natural.
How Can Dental Implants Replace Missing Front Teeth?
Regardless of the location of your missing teeth, every person wanting dental implants needs to go through a four-step process, which includes an initial consultation, surgery, osseointegration and abutment placement, and the attachment of your final restoration.
Your Consultation: During this visit, your dentist will examine your mouth, take necessary X-rays, and outline your treatment process so you know what to expect, including whether you'll require preparatory procedures.
Implant Placement Surgery: In some cases, dentists with advanced training place their implants in-house, making the process more streamlined and convenient.
Healing & Abutments: After your implants have been surgically placed, you'll undergo a process called osseointegration as you heal. This is when your implants will fuse with the jawbone. After this has occurred, your dentist will secure small metal connector pieces to your implants, called abutments.
Restoring Your Smile: The final step of restoring your front teeth will be attaching your prosthetic to the implants.
The Benefits of Choosing Dental Implants to Replace Front Teeth
There are several advantages to choosing dental implants to replace your front teeth, including:
Implants have an impressive lifespan of 35+ years with routine maintenance.
Your surrounding teeth won't have to be altered to anchor the prosthetic within your mouth.
When secured to implants, your prosthetic will not only look more lifelike, but also function as your natural teeth do.
Because your front teeth are so noticeable, investing in the most realistic looking replacement option will help your confidence soar.
Although dental implants have a higher up-front cost than their traditional counterparts, they provide priceless benefits, especially when you're replacing the first teeth that show when you smile!
About the Author
Dr. Srujani Gadusu's favorite part of being a dentist is having the ability to help transform her patients' lives by restoring their smiles. She earned her Doctor of Dental Surgery degree at The University of Oklahoma College of Dentistry and has completed hundreds of hours of additional training in specialty services like tooth extractions and dental implants. With the ability to complete the entire dental implant treatment in-office, she aims to achieve results that don't just look natural, but also feel lifelike. To schedule a consultation, visit Canyon Creek Family Dentistry of Richardson's website or call 972-644-3800.